Learn a lot more about the dance form that puts 4 couples together as a team. They dance intricate, yet easy to learn,
movements together, moving from partner to partner until the music ends and they magically return to their original partner
and original place on the dance floor.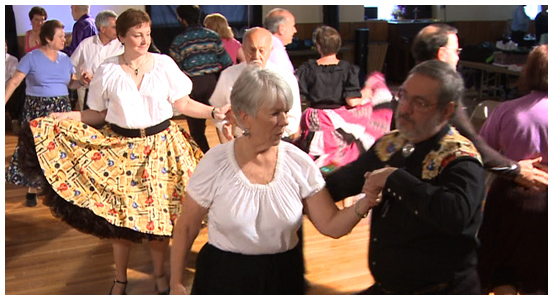 Whether you are looking to find a square dance club to join, find a caller to hold a fun evening of dancing
and socializing, visit a local club to see first hand, or you would just like to speak with someone in your area,
this site will help you do that.
"Dancers are the athletes of God." - Albert Einstein
To locate a club near you, click on "Find a Club".
To find a square dance caller in your area, click on "Find a Caller".
To learn more about the variety of square dance clubs, such as teen or youth square dancing, square dance camping groups,
square dancing in the gay community, or handicapable square dance groups,view them on the home page
To read articles and testimonials about square dancing, it's benefits, and the people who enjoy it, click one of the buttons below
the video window, or the "11 Reasons to Dance" icon.
To learn more about the other forms of recreational dance featured in this website,
return to the "Home Page" and click on one of the other menu items.
"Thank you for visiting out site." - The ARTS-Dance Organization