Square Dancing has changed a lot since Colonial times. Gone are the fiddlers and live bands, replaced by sophisticated
sound systems and recorded music. The barns and fields have given way to modern air-conditioned halls, with larger dances
being held in Hotel Ballrooms and major municipal convention centers. Weekly dances at local Square Dance clubs average 50
to 150 dancers, with special weekend dances being attended by
500 to 3000 dancers
. A
"National"
festival is held in a different
city each June, and is usually attended by
3,000 to 5,000
dancers.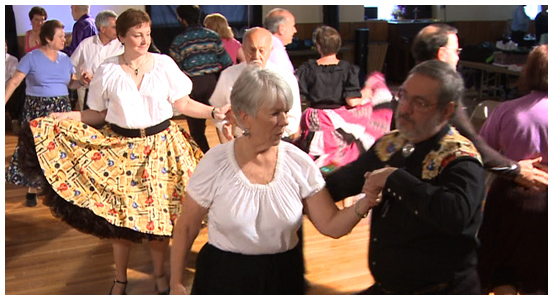 Today's Square Dancing is a fun activity, set to a wide variety of music that offers great social interaction while providing both
physical exercise and mental stimulation in a drug and alcohol free environment.
"The one thing that can solve most of our problems is dancing." - James Brown
Today's dancers move to modern music and come from all walks of life. A pleasant mix of Classic Rock, Top 40, Country, Latin, and
"Oldies" is used at most Square Dances today. Dancers might be promenading to "Pink Cadillac" one minute, and circling to
"You Are My Sunshine" the next. In short, everyone can find his or her favorite music at a Square Dance today.
Just as the music is a blend of styles, so are the dancers, with everyone from company presidents to the unemployed, and from students to
retirees, all having a good time together. It doesn't matter who you are, or what you do, just that you like having a good time with friendly people.
There are organized square dance clubs all over the world and they include teen square dance clubs, camping square dance clubs, gay square dance clubs, singles square dance clubs, and family square dance clubs.
It's a great form of exercise and stress relief. An evening of dance could equal THREE TO FIVE miles of walking and burn 300 to 800 calories. As a bonus, you can't think about the day's worries when you are listening for, and responding to, the calls.
So you have nothing to lose and plenty to gain - better health, lots of new friends, and a fun alternative to whatever else you do for recreation. To find a club near you, click on "Find a Club" or "Find a Caller".
"There are short-cuts to happiness, and dancing is one of them." - Vicki Baum