Handicapable Dancers are dancers who may have developmental disabilities, may have autism, may have cerebral palsy or any other disability. Handicapable Square Dancers may be dancers in wheelchairs who do not have any developmental disabilities. These wonderful dancers love square dancing as much as any one else, they just may need a little more time to dance the steps.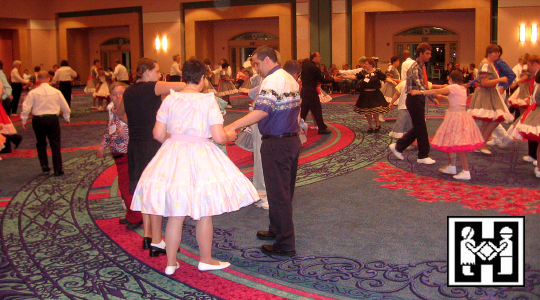 Founded in 1988, in Mobile, Al, the US Handicapable Square Dance Association has 40 US and 9 International clubs.
The First US Handicapable Square Dance Convention was held in 1988 in Chickasaw, AL, a Mobile, AL suburb.
USH has strived to improve with each new USH Convention. The conventions are held every other year, which allows member
clubs two years for fundraising, so they can travel to each USH Convention.
Square dancing promotes self-esteem, coordination and peer contact. The main goal of square dance clubs is to provide a setting
where the dancers can achieve a sense of accomplishment and at the same time just have some great fun.
Click on the US Handicapable logo above for more information about clubs closest to you.